---
We're playing a 1 hour liveset at Holland's biggest online Techno radio station: XT3 Radio! Tune in at 22.00 on http://www.xt3radio.nl/
Related show
After long thinking and hard working, it's finally released: our updated website! Everything works way faster now, since it's using the latest version of WordPress and all it's great plugins. However, the design is still in development, but will get increasingly better soon.
Much is done on the integration with the KiNQ Facebook Fanpage, so everything is more social now 😉 This even includes the pics, which will be updated soon. Next to that, new schedule software is installed that allows you to subscribe to our calendar to never miss a gig again. Last but not least, we've also added a small hall of fame, on special request..
A special 2.0 Podcast Episode will be released as soon as the site is out of beta. So let us know when you see an error, a bug or just a creative improvement, and the podcast will be out asap! Feel free to comment below..
Saturday December 11th will be the twelfth edition of Club KiNQ. Since it's also the second anniversary of our residency at Bootleg DJ Cafe in Rotterdam, we'll do a special all-night-long resident SOLO set, starting at 23.59hr!
We'll make sure that there's cake and cheap drinks for the first hour, so be there on time!
Check out the flyer
Check out the video of the KiNQ Rave @ Melt Festival Camping 2010 below.
[youtube]http://www.youtube.com/watch?v=_7SWLk6mFlw[/youtube]
Good news to all you ravers! After the big succes at the Melt! campside, we've now found a great place for Part Two. Rotterdam's best underground club will host us for another night happiness (-:
Entrance is free for everyone who joined us last week in Germany, so bring you wristband. Otherwise it's just five euros entrance, for a looong night of raving..
Cheers!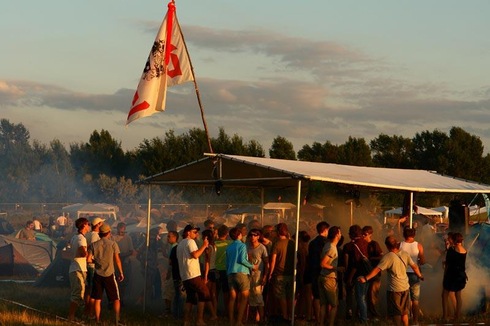 (photo taken at 8am, after a 14 hour party…)
Related show