Club KiNQ > KiNQ.com goes offline!
Starting on December 6th, KiNQ will have their own bi-monthly resident parties at Bootleg DJ Cafe Rotterdam. We'll be playing our KiNQ sound out loud, but we'll also invite other deejays we support. So come on, and prepare to dance!
Club KiNQ Fifteen, February 11th 2012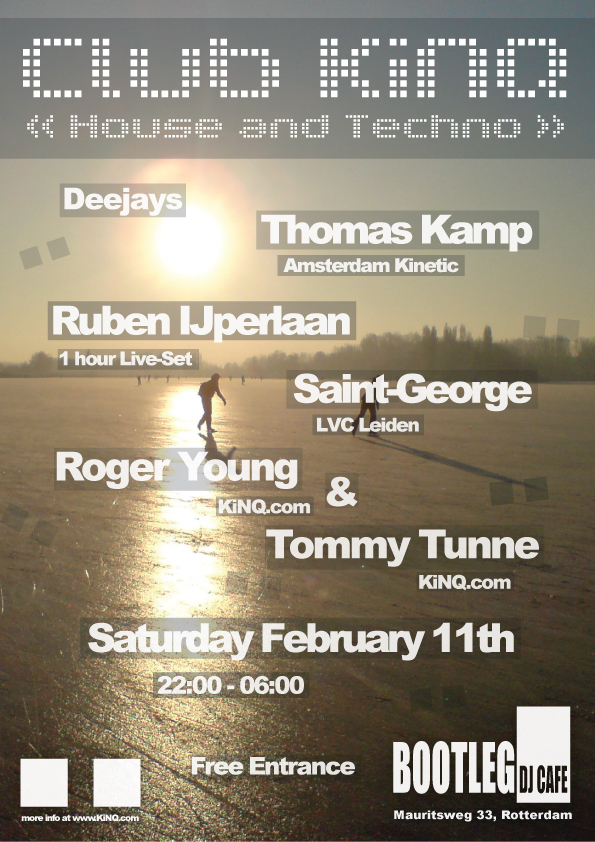 New edition, new guests! Thomas Kamp from Amsterdam, Saint George from Leiden and Ruben IJperlaan from Delft. See more on FB: https://www.facebook.com/events/276433439083053/
Club KiNQ Thirteen, April 9th 2011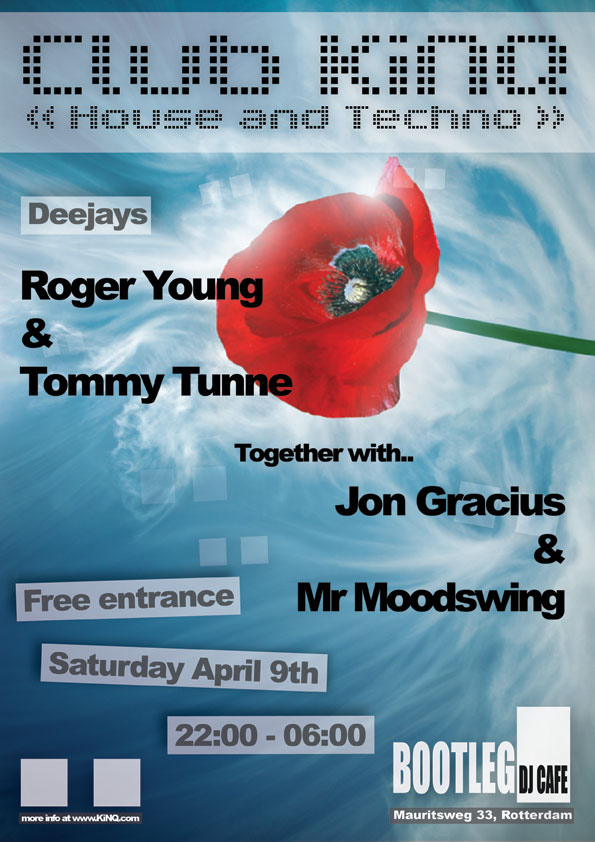 We're back in the house! This time with jazzy Jon Gracius and funkin' Mr Moodswing!
Club KiNQ Twelve, December 11th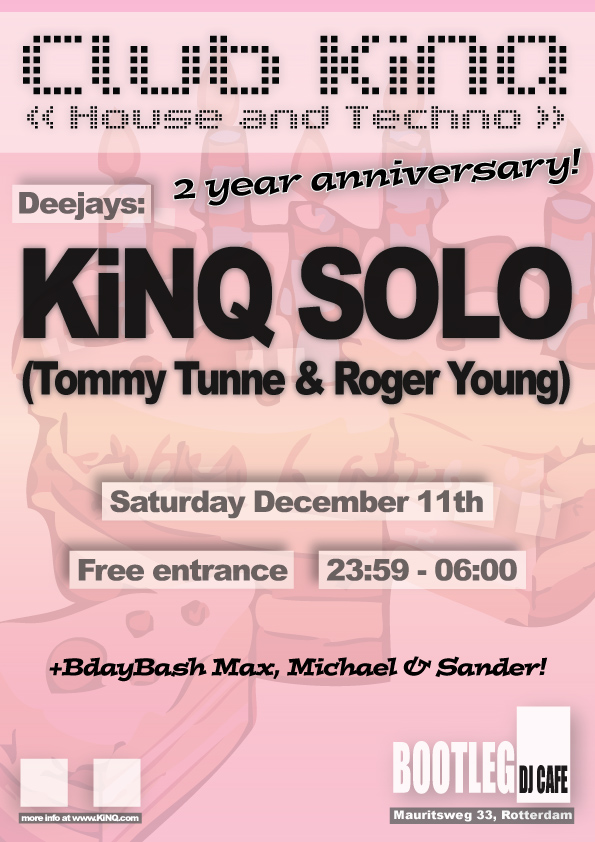 Club KiNQ's two year anniversary, with a KiNQ all-night-long SOLO set!
Club KiNQ Eleven, October 9th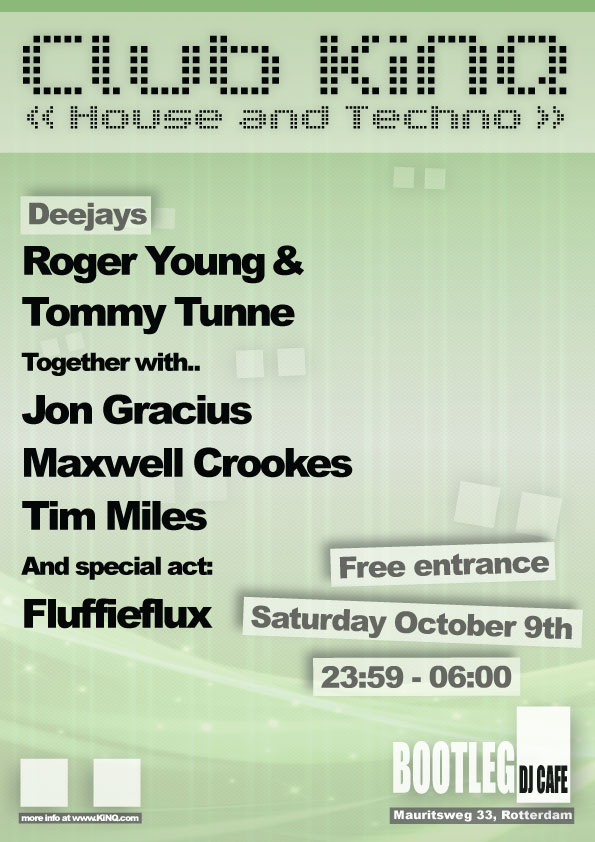 Together with the Flavourables, Jon Gracius and a special Wii act by Fluffieflux!!
Club KiNQ Ten, June 12th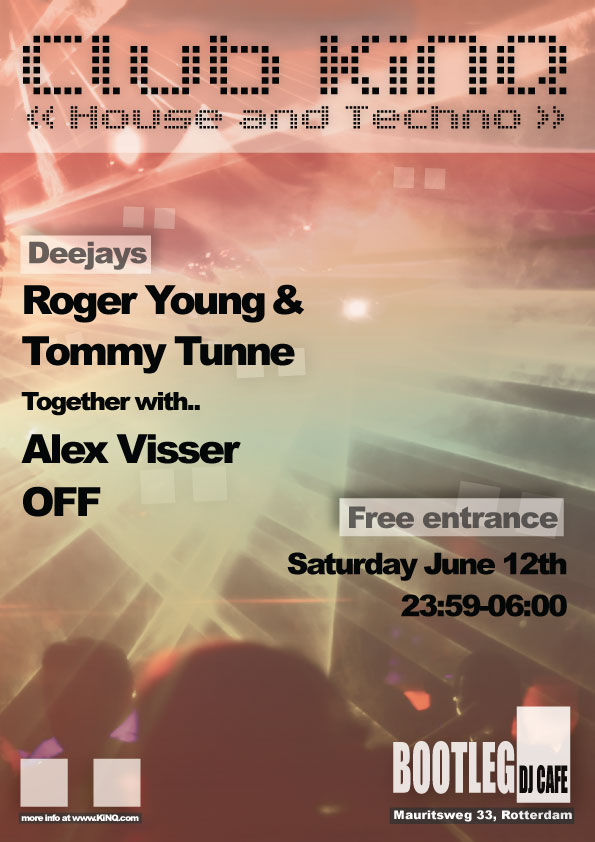 Tenth edition of our resident parties at Bootleg DJ Cafe Rotterdam!
Club KiNQ Nine, April 17th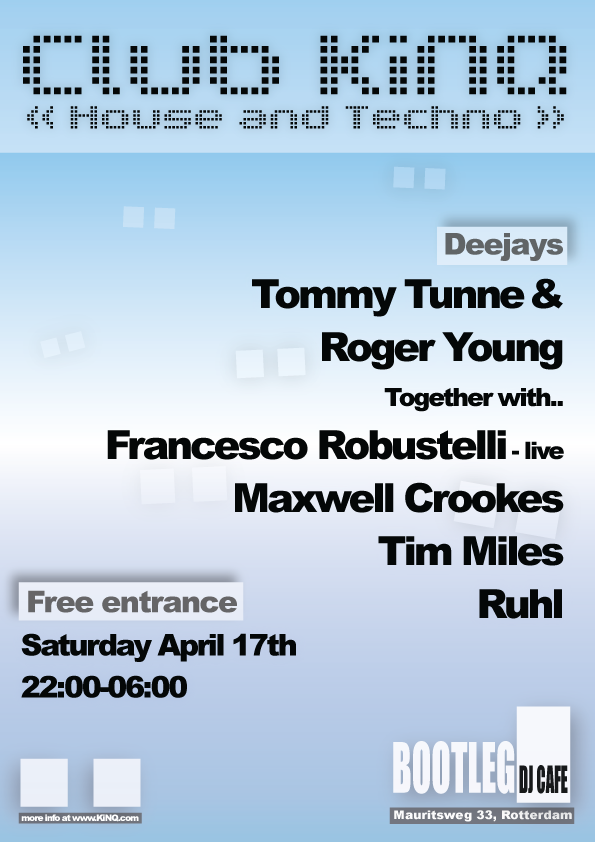 Club KiNQ Eight, February 20th  –  Special Belgian Edition!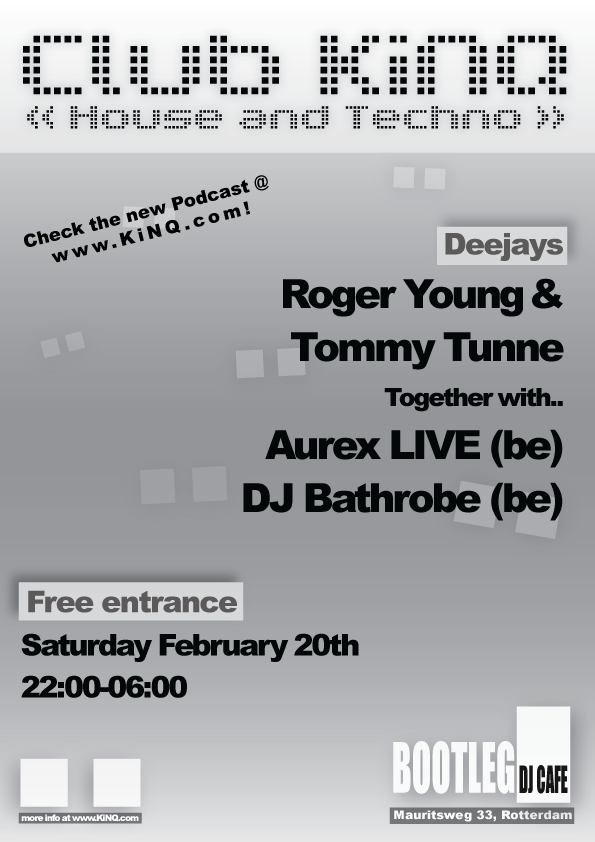 Club KiNQ Seven, November 14th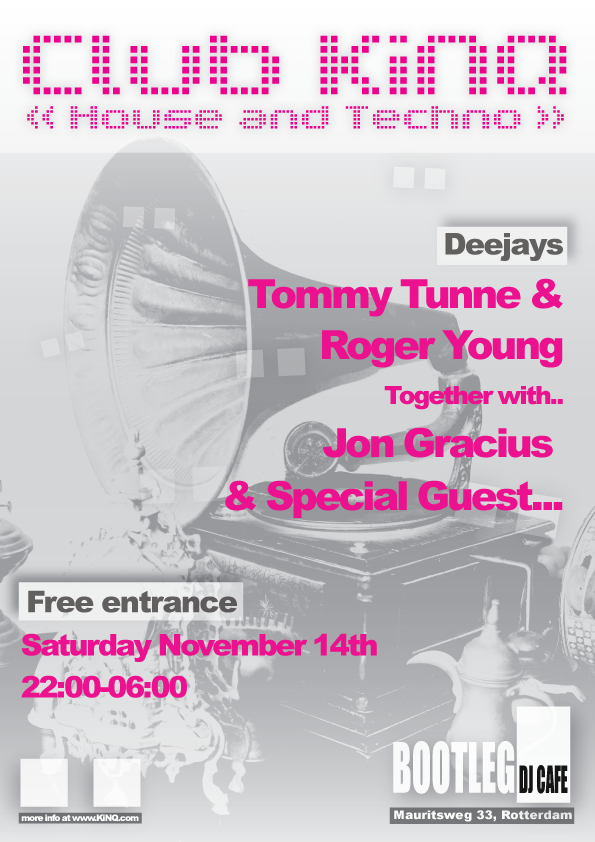 Keep on movin'..!
Club KiNQ Six, September 25th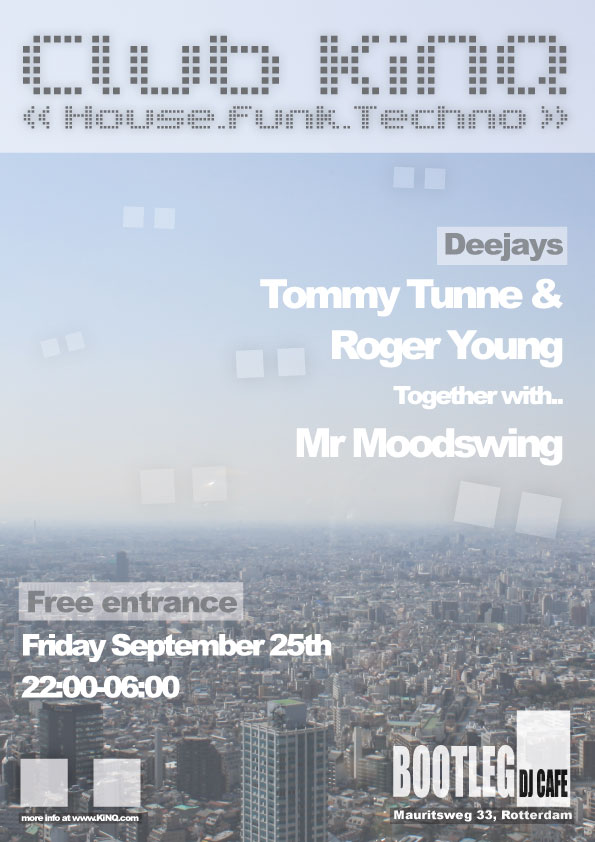 This is going to be a great edition of our resident party, together with our special friend Mr Moodswing.  He is known as the man with the groove, and will get everyone moving with his funk and jazzy sounds. Furthermore we'll be doing extra long sets, so we can really keep it flowing all night..!
Club KiNQ Five, July 11th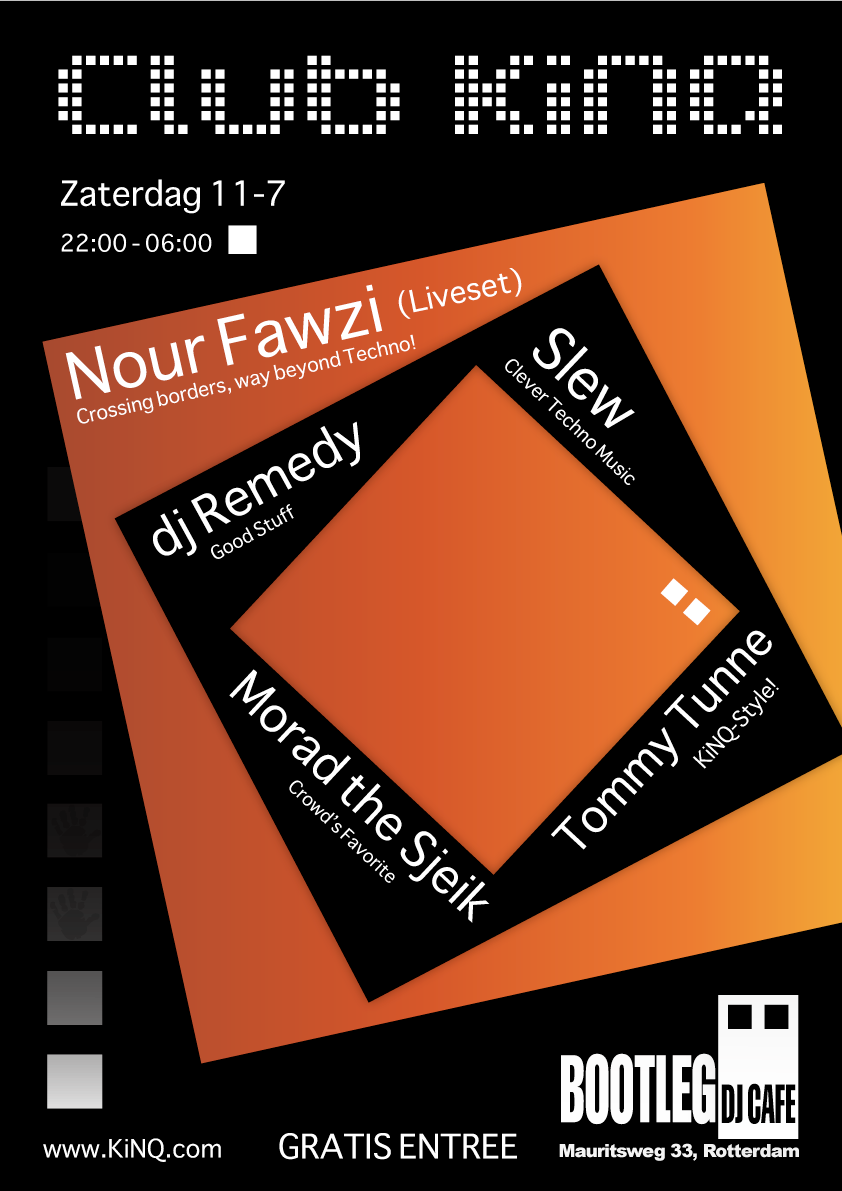 Club KiNQ Four, May 2nd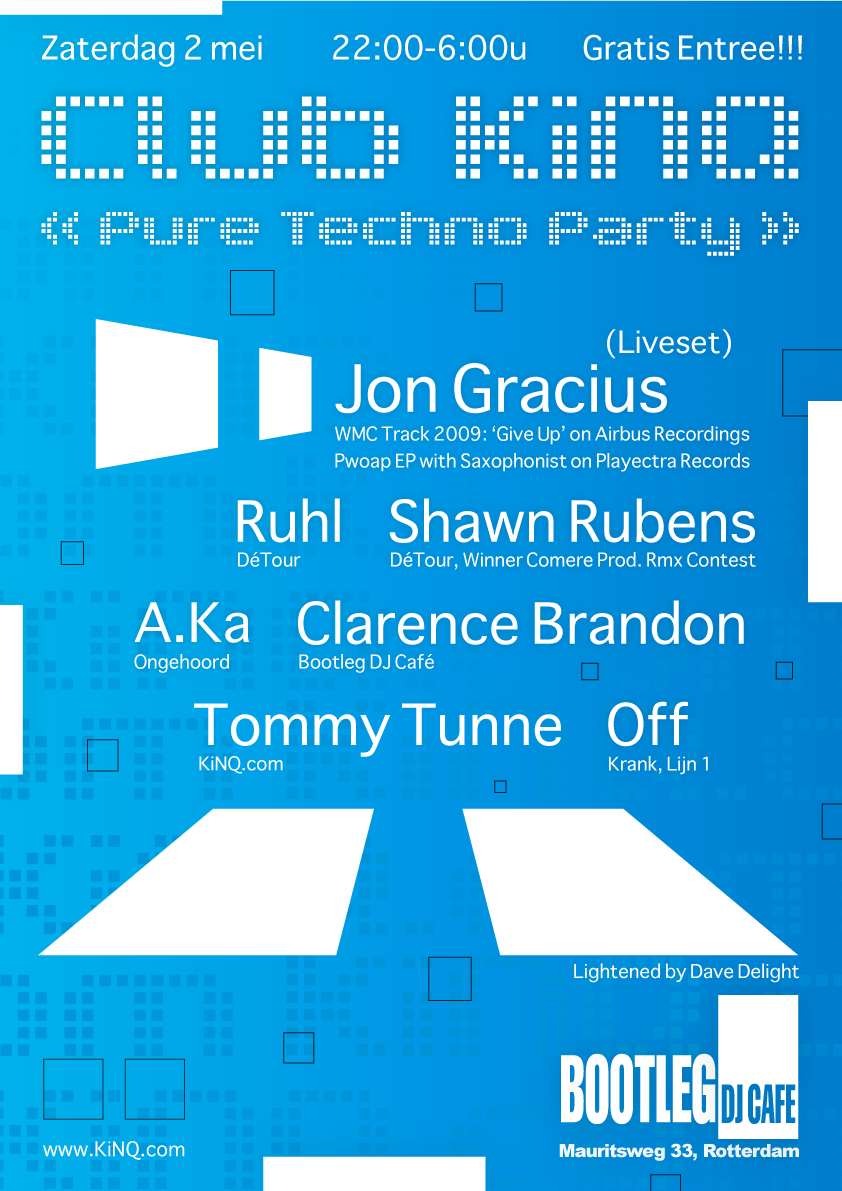 Club KiNQ parties on while Roger's among the Japanese!
Club KiNQ Three, March 13th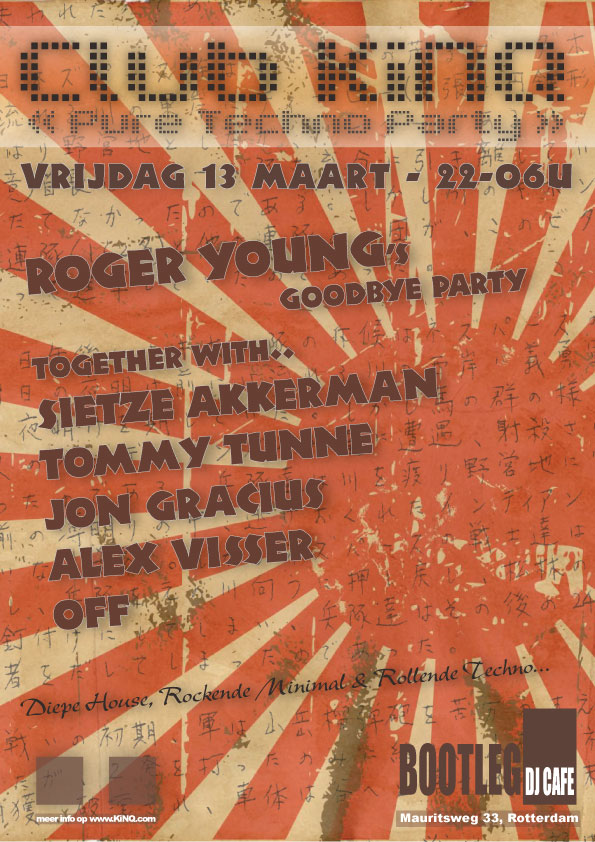 This will be Roger's last party before moving to Japan for five months! Be there to say goodbye!
Club KiNQ Two, February 7th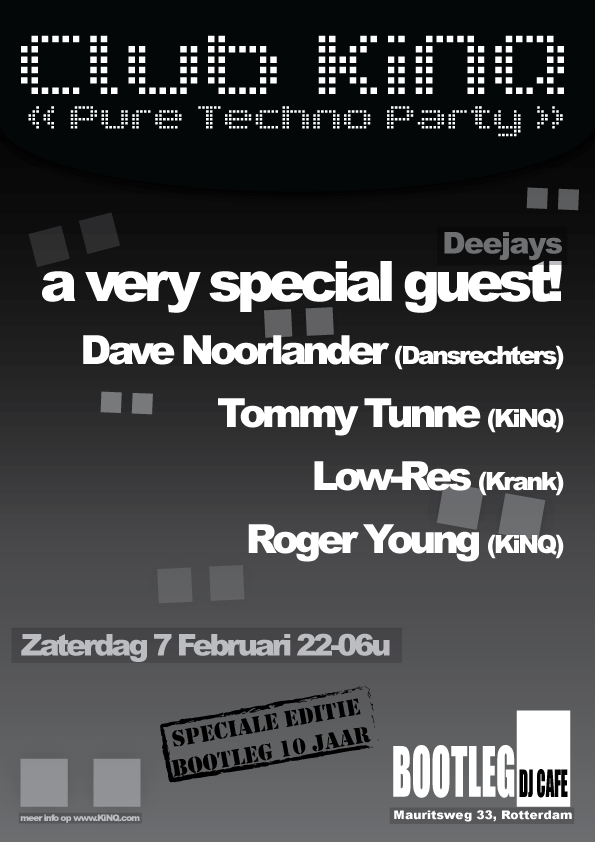 Club KiNQ One, December 6th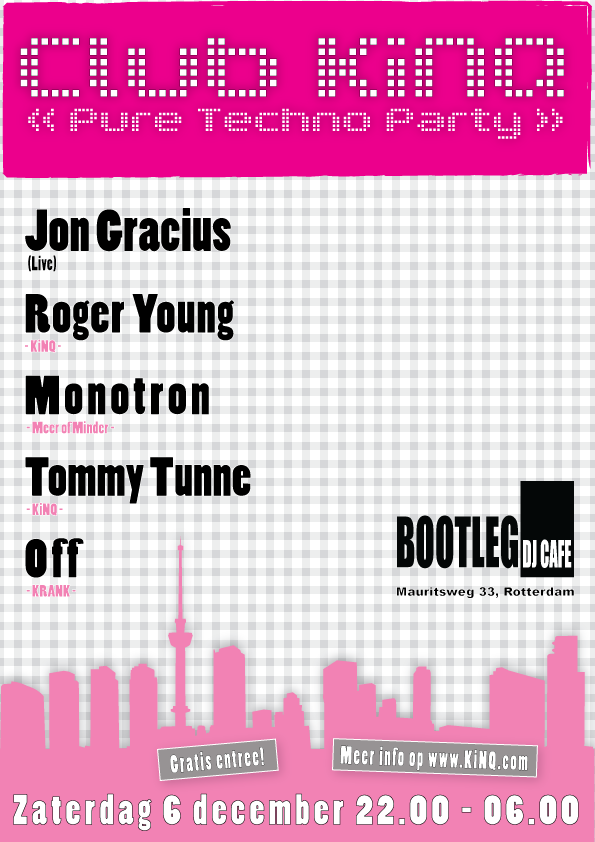 PERSBERICHT
Om de maand vindt in de Rotterdamse Bootleg DJ Cafe het verfrissende Club KiNQ plaats. Dit feest is voortgekomen uit de succesvolle podcasting website www.KiNQ.com. Deze site dient al meerdere jaren als het muziekale platform waar de deejays Tommy Tunne en Roger Young hun geluid ten gehore brengen. Na meer dan 100 optredens door het hele land is het nu tijd voor hun eigen avonden, geheel in KiNQ stijl.
KiNQ staat voor techno in zijn puurste vorm. Verwacht gevoelige melodieën, maar ook stampende beats. Als er maar die voortstuwende groove in zit..! KiNQ staat voor nieuwe helden. Dat betekent niet de grote-mega-superhelden-deejays, maar nieuwe gasten met frisse vernieuwende invloeden.  KiNQ staat voor geluid.  Speciaal voor deze Club avond zal het geluid in de Bootleg versterkt worden met enkele extra speakers.
Kortom: verwacht geen hangavond, trek je rode schoentjes aan, en kom genieten!
Wat: Club KiNQ
Waar: Bootleg DJ Cafe, Mauritskade 33
Wanneer: eens in de2 maanden
Stijlen: House / Minimal / Techno
Lineup: zie flyer