---
http://www.facebook.com/events/291383370963165/
In de afgelopen jaren leerden deze jongens elkaar kennen in de Rotterdamse scene, met als vaste hotspot het Bootleg Dj Cafe.
Nu, vele feesten, concepten, ideeën, bizarre afters en nieuwe initiatieven verder komen ze weer bij elkaar om jullie een ouderwets avondje te laten beleven. Verwacht een uitmuntende sfeer, mooie mensen en intense muziek.
Je hebt 3 redenen om lekker vroeg te komen.
1: Speciale lekkernijen tot 0:00 voor een bodemprijsje.
2. Vanaf 01:00 betaal je 3 E entree.
3. Vanaf 22:00 muziek om je vingers bij af te likken.
Zie je 8 december.
Related show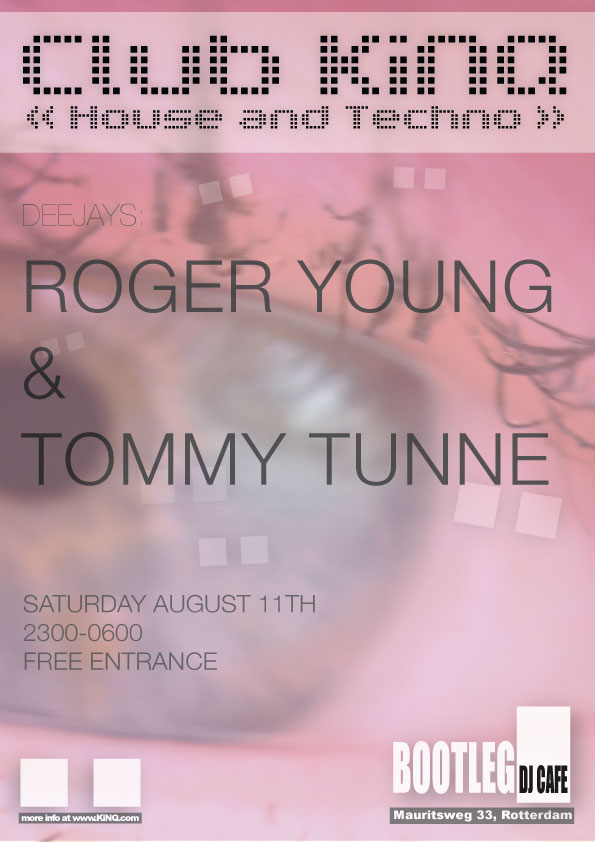 KiNQ is doing a all-night-er again, at their favorite spot in Rotterdam: Bootleg DJ Cafe! So come join Roger Young and Tommy Tunne on August 11th from 23oo till …. (-:
Related show
Club KINQ continues..! For 2012 we've planned four editions, one each season. The first one will be the Winter edition, so Get ready for some (indoor) snow!!
Read more at http://club.KiNQ.com
Related show